Delicious Canadian food – 40 food experiences to make you fall in love with Canada!
If you're new here and enjoy my blog, I'd love you to to subscribe to my RSS feed. Thanks for visiting!
I've always loved food as a gateway to culture, a way to dip our fork into the traditions, landscapes and history of the places we visit. Over several trips to Canada I've tasted some delicious Canadian food, from the lobster and seafood that abound in the cold, clear Atlantic waters of Nova Scotia and Prince Edward Island, to the multicultural flavours of port cities like Halifax and Victoria that welcomed immigrants from all over the world.
There's a diversity of landscape that inspires Canadian cuisine; the forests of Quebec that produce maple syrup, the rolling farmlands of Ontario that feed the farmer's markets and the mild climate of Vancouver Island with its wineries and cider orchards. Come with me on this food-lover's journey, to discover some of the most tasty Canadian dishes, that helped me fall in love with Canada.
Fall in love with the food of Prince Edward Island
Step back in time on Prince Edward Island, as you wander past pretty painted houses or feel the breeze in the sand dunes by a picturesque lighthouse. In Canada's smallest province, you can relax into the unhurried pace of island life, while enjoying fresh farm produce and the fabulous seafood that abounds in the cold Atlantic waters around PEI.
Plan your trip: Visit the Tourism Prince Edward Island Website and the Discover Charlottetown website

Read More: 10 fun things to do in Charlottetown and Prince Edward Island
Anne of Green Gables and Prince Edward Island
The story of Prince Edward Island is for many visitors bound up with the story of Anne of Green Gables. The red haired orphan Anne Shirley is the heroine of the novel published by LM Montgomery in 1908, with stories of rural life in a farming community where the author visited her cousins as a child. The green roofed farmhouse has now been made into heritage centre, with rooms restored and furnished to look as if Anne and her adoptive parents Marilla and Matthew have just stepped out to visit a neighbour.
Visit Green Gables Heritage Place to see rooms furnished as they might have been if Anne of Green Gables had lived there and wander around the flower garden and through the marked trails of Lover's Lane, Haunted Woods and Balsam Hollow, that are inspired by those described in the book.
Need a hotel in Charlottetown? Check out the The Great George where we stayed and other Hotels in Prince Edward Island
1. Charlottetown Farmers Market – channel your inner Anne of Green Gables
When you visit the Charlottetown Farmers Market you'll see produce that might have been dug out of Anne of Green Gable's garden and you really will be buying direct from the farmers. We admired miniature turnips and spring greens as well as numerous varieties of potatoes that are famously grown in the red soil of PEI. The home made jams, jellies and preserves were certainly worthy to sit on the shelves of Marilla's pantry and there was a down to earth charm in this farmer's market with the ethos, Eat Fresh! Buy Local!
You'll also find plenty of stalls selling dishes and snacks that are ready to eat and we brunched on some grilled scallop and bacon kebabs followed by cakes decorated with edible flowers. The farmer's market takes place every Saturday 9am to 2pm all year round in a permanent building at 100 Belvedere Avenue, which is a little way from the historic centre of Charlottetown, so you may need to drive depending on where you are staying.
What we loved: A chance to chat to farmers who are passionate about their produce.
We love food tours as a way to discover the food culture of the places we visit such as the fantastic tour in Charlottetown that combined food, history and culture. With the Experience PEI's Taste the Town tour we visited many of the locations mentioned here.
If you'd like to see more of Prince Edward Island take this full day driving tour: Charlottetown: Best of Prince Edward Island Tour
2. Lobster Roll by the harbour in Charlottetown
You'll find the freshest and best seafood in Prince Edward Island, surrounded as it is by the cold Atlantic waters that are an ideal breeding ground for lobster, oysters and other shellfish. On the waterfront we found Lobster on the Wharf with its seafood market where you can take a look at the lobsters and oysters and make a purchase if you wish.
Better still, pop next door to their restaurant where you can order all the seafood specialties, including their lobster roll that was voted best in the region. We could understand why when we tried the floury soft white roll filled with an abundance of lobster chunks bound with just the right amount of mayo and crisp lettuce.
What we loved: Sitting on their deck in the sunshine eating lobster with a great view of the harbour
3. Oysters on the tasting menu in PEI
The cold seas that breed lobsters there are also perfect for farming oysters and if you just want one or two, you can try them individually at Lobster on the wharf. What I hadn't quite realised is that just like a good wine, oysters vary in flavour depending on where they are farmed or caught. It's worth going into one of the many specialist oyster bars like Claddagh Oyster House in Charlottetown to try a plate of them and compare the flavours of different varieties. 
4. Lighthouse spotting with a steaming bowl of mussels for lunch
Along the coastline of PEI set on rocky shores or among the sand dunes, are more than 60 lighthouses that in the past kept the ships safe sailing these waters, but are now iconic landmarks. Many are open to the public as heritage sites, or are still kept working by the government where they are required for navigation. We saw a few of them on our Lighthouse Lover's Tour driving along the coast to see all the lighthouses and photograph or climb inside them.
If you'd like to see more of Prince Edward Island take this full day driving tour: Charlottetown: Best of Prince Edward Island Tour
After a morning lighthouse spotting, what could be better than a steaming bowl of mussels like those we tried at 21 Breakwater restaurant? It's set in a clapboard house just back from the road, that overlooks the sea near the small fishing village of Souris and is a family run business where everything is freshly cooked and features plenty of seafood on the menu.
What we loved: At 21 Breakwater the atmosphere was just like eating at a friend's house but the food was top notch!
5. Elevate the humble potato at The Chip Shack in Charlottetown
The distinctive red soil of PEI is well known for growing excellent potatoes and we tried some of the best fries made with local potatoes from The Chip Shack. The owner Caron a.k.a Queen of Fries dispenses hugs and smiles along with the best fries in town – with fresh cut local potatoes that are double fried to make them extra crunchy. They also serve fish & chips, lobster rolls and apple fries, so be sure to check out their chip shack in the harbour area when you're in Charlottetown.
What we loved: Caron offers free hugs and laughter along with her fabulous fries and oozes positivity

Need a hotel in Charlottetown? Check out the The Great George where we stayed and other Hotels in Prince Edward Island
6. Eat your greens in Charlottetown, PEI
Kale and leafy greens may not be the most inspiring vegetable, but you will find them farmer's-market-fresh in salads and other dishes in the restaurants of Charlottetown, making it a pleasure to get your daily quota of greens. We tried this kale salad with beets, goats cheese and caramelised pecans at Terre Rouge, in Charlottetown which has now closed, but the new incarnation of Terra Rossa at the same address (72 Queen St) also offers salads and other dishes made with local produce and you'll find this a theme in many of the restaurants around town.
What we loved: The refreshing lemon cocktail with a splash of aged balsamic vinegar from Liquid Gold next door specialising in premium olive oils and vinegars – an unlikely combination but it worked!

If you'd like to see more of Prince Edward Island take this full day driving tour: Charlottetown: Best of Prince Edward Island Tour
7. An ice cream at COWS in Charlottetown, PEI
From their central Charlottetown location at 150 Queen Street, COWS sell their creamy, indulgent ice creams with a large dollop of humour. The company started at their creamery in Cavendish on PEI but now have a number of other branches around Canada and their selection is always changing. Their favourite Canadian flavours have quirky names like Cowconut cream pie, Cownadian Maple and Wowie Cowie.
What we loved: This is the perfect place to stop for an ice cream before or after visiting the nearby Confederation Centre of Arts where they sometimes show the Anne of Green Gables Musical or the The Guild where they have Anne and Gilbert, the Musical playing.

Read More: 10 fun things to do in Charlottetown and Prince Edward Island 
Food experiences to love in Halifax, Nova Scotia
One of the highlights of our visit to Halifax and Nova Scotia in general was the fantastic seafood and we were blown away by the quality of the lobster, oysters, crab and scallops that are on almost every restaurant menu in Halifax. Beer lovers will also enjoy the craft beer scene in Halifax, with a popular brewery tour at Alexander Keith's Nova Scotia Brewery where costumed actors lead you through the oldest brewery in Nova Scotia.
Plan your trip: For all the things to do in Halifax use the Discover Halifax Tourism website.

Read More: 10 fun things to do in Halifax Nova Scotia
8. The finest seafood at The Five Fishermen in Halifax
If you want the finest seafood in a relaxed but upscale environment, you can't do better than the Five Fishermen restaurant in Halifax. This well known restaurant has a story to tell, as its location was once a funeral home that took in many of the dead from the Titanic disaster and the Halifax explosion, with staff telling tales of the ghosts they've seen.
You probably wouldn't guess this though from the warm and charming dining room upstairs where the spotlight is firmly on the seafood! We tried the oysters with a choice of different sauces, the plump scallops and the lobster with vegetables and butter sauce – all simple but delicious. Downstairs is a more informal Little Fish Oyster bar, a great place to try small plates with a drink if you don't want the full dining experience.
What we loved: We can recommend the Nova 7 by Benjamin Bridge sparkling wine, which we enjoyed so much that we bought a bottle at the airport to take home. 

Need a hotel in Halifax? Check out the Westin Nova Scotia where we stayed and other Hotels in Halifax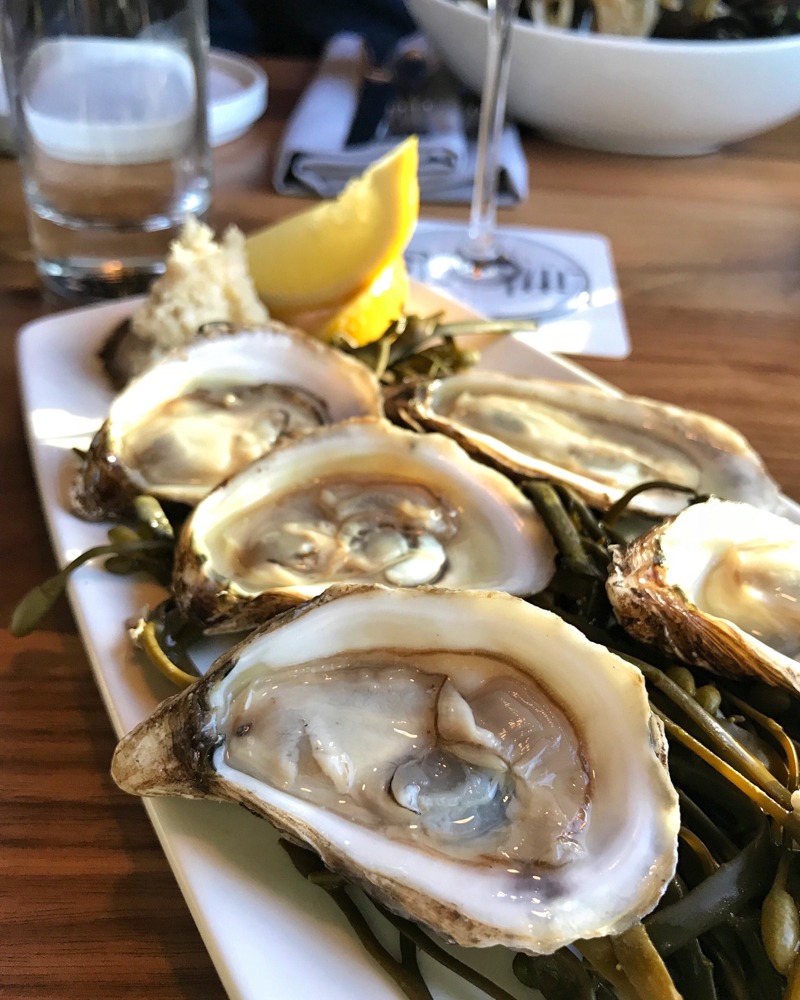 9. Chowder – so warming at the Westin Nova Scotian
Another delightful meal during our short visit to Halifax was at Elements on Hollis, the restaurant of the Westin Nova Scotian where we stayed in Halifax. The restaurant offers local flavours with a modern and international twist, with flags beside each menu item to indicate the international cuisine that had inspired them. The international theme is quite fitting for a heritage hotel where elegant travellers would stay in the 1930s and 40s before taking their Atlantic Cruise and close to the terminal where immigrants would arrive by ship to start a new life in Canada.
Take this tour of the Halifax food scene covering food trucks, restaurants and breweries: Halifax: 2.5 hr City Foodie Tour
However since we were most interested in the local flavours of Nova Scotia, we enjoyed the creamy chowder soup, a meal in itself with salmon, haddock, mussels and scallops. In Nova Scotia, where seafood is plentiful and the mist rolls in from the sea, the chowder is a great way to use any odd bits of fish that you had at home for a warming soup that's practically a meal in itself. Every area has its own variation and there's even a Nova Scotia Chowder Trail with a map showing the different participating restaurants across the state.
10. It's all seasonal and local at the Halifax Seaport Farmers Market
A short walk from the Westin Nova Scotian where we stayed in Halifax, is the Halifax Seaport Farmers Market which has been in existence since 1750 but moved to its current home in a large modern building on the Seaport in 2010. The market now houses 250 different vendors, with stalls with beautifully presented fresh fruit and veg, countless varieties of apples and seasonal specialties like asparagus and rhubarb.
Mixed in with the fresh produce were food vendors with a multicultural influence reflecting the history of Halifax as a major sea port and the gateway for many immigrants to Canada from all over the world. If we'd been hungry we could have chosen from African, Indian, Lebanese, Caribbean and Korean cuisine, in fact it was difficult to work out what Canadian food might be, if not this blend of multi-ethnic cuisine and fresh local produce.
What we loved: A chance to sip and taste many of the foods on sale from the artisan food producers

Take this tour of the Halifax food scene covering food trucks, restaurants and breweries: Halifax: 2.5 hr City Foodie Tour
11. A beer where the immigrants first arrived in Canada
Canada has historically been one of the most welcoming nations for immigrants, which is reflected in the multi-cultural society of today. It was fascinating to visit the Canadian Museum of Immigration Pier 21 and learn more of the human stories of those who arrived in Canada. The Museum is named after Pier 21 on the waterfront, where the boats would dock and immigrants to Canada came ashore to begin their journey in becoming Canadian citizens.
If you want to book in advance, you can order your ticket for Pier 21 here.
The railway ran right in front of the Pier 21 buildings and across the tracks were the railway sheds and warehouses that have now been converted into shops, restaurants and bars like the Garrisons microbrewery. They make one of the popular Halifax beers that you'll see on sale in bars all over town and you can take a brewery tour or just sit in the airy brick brewery, buy bottles from their shop and order some tasters of the different beers on tap. It's not technically a bar but you can taste lots of different smaller beer samples, which is always fun to do.
Food experiences to love in Nova Scotia
As we drove out of Halifax to see more of Nova Scotia, the landscape was gently rolling, with the fertile farmland of wineries and apple orchards, although there's still plenty of seafood to enjoy from the coastal waters and the Bay of Fundy.
Plan your stay: visit the Nova Scotia Tourism website

Read More: 10 things to do in Nova Scotia on a 3 day road trip
13. Cook your own lobster at Peggy's Cove
First stop as we drove from Halifax was Peggy's Cove, a picture perfect fishing village set at the entrance to St Margaret's Bay which provides sheltered harbours and inlets for sailing boats. As one of Nova Scotia's prettiest attractions, you'll see images of Peggy's Cove Lighthouse on many a postcard, although the village still has working fishermen, with their lobster pots and nets piled on the shore. We parked by the visitor centre at the top of the hill and walked to the lighthouse, past old fishing shacks and painted wooden houses that are now charming gift shops and artists studios.
Try this small group tour of Halifax and Peggy's Cove that includes a lobster roll lunch.
On our way to the lighthouse, we stopped at U-Cook Lobster where the mobile lobster van can teach you how to become a lobster chef in 12 minutes. You get a chance to handle the lobster with claws safely secured then the lobster is steamed and ready to eat there and then with lemon or melted butter or to take away. It's a unique chance to learn how to cook and eat Nova Scotia lobsters although perhaps not for the squeamish who might feel a bit sorry for the lobster!
What we loved: Catch Peggy's Cove on a sunny day and your photos will be the envy of your friends – so photogenic!

If you don't have a car, take this Best of Halifax scenic tour that includes a drive out to Peggy's Cove
14. Lobster in the rough at Hall's Lobster Pound
Our road trip continued as we drove north to Hall's Harbour, a small fishing hamlet located in the Bay of Fundy, which is known for the highest tidal range in the world, with a 40 feet or more variation between low and high tide. Depending on when you arrive, the fishing boats could be floating by the dock, or perched on the mud at the bottom of the harbour.
Our lunch stop was at Hall's Harbour Lobster pound, where lobsters are brought in from all over Nova Scotia to be held in sea water pools, before being sized, sorted and sent to fish markets all over the world. During the tour you even get to hold one of the giant lobster, its claws safely taped up, to avoid any risk of you losing a finger!
In the adjoining restaurant it was time to experience the "Lobster in the rough" dining experience, where you can choose your lobster, which is then sent to the cookhouse and served up to you in the restaurant. Although there were full instructions on how to eat a lobster, I felt a bit apprehensive about all the claw breaking and meat picking involved, so I ordered a lobster roll instead. This typical lunchtime dish mixes the lobster meat with mayo in a fresh bread roll and served with coleslaw and creamy potato salad on the side, which made a hearty meal!
What we loved: Getting to hold those huge lobsters on the tour
15. The Starr's Point agritourism route in the Annapolis Valley
After Hall's Harbour we continued towards Wolfville via the edge of the ridge known as The Look Off, that offers amazing views over the fertile farmland of the Annapolis Valley and the sheltered Minas basin beyond. The valley enjoys a warm microclimate with fertile soil, making it ideal for apple and wine growing.
In the distance north of Wolfville is the Grand-Pré historic site, an area of farmland worked in the 1680s by the Acadian community of French settlers who drained the salt marsh with dykes that you can still see today. The Acadians settlers who refused to take an oath of allegiance to the British government, suffered deportation between 1755 and 1762, and this terrible upheaval of the Grand Derangement is remembered at a visitor centre and church of Saint-Charles-des-Mines.
Take this tour of the Annapolis valley from Halifax to visit several of the local wineries: Annapolis Valley Winery Tour with tastings

Need a hotel in the Annapolis Valley? Check out the Old Orchard Inn where we stayed and other hotels in Wolfville
In the valley we enjoyed a drive around the Starrs Point Loop, an agritourism trail created by a group of artisan food producers, on the north shore of the meandering Cornwallis River. The "Loop" is a circular route that you can drive, walk or cycle, stopping at wineries, farms and cafes along the way – a perfect way for foodies like us to spend an afternoon!
What we loved: Wow! those views!
16. Taste the wines of Canada at Planter's Ridge winery
On the Starr's Point loop, our first stop was the Planter's Ridge Winery, where a 150 year old timber framed barn had been renovated to make a modern tasting room with a patio overlooking the vineyards. The winery was planted from scratch in 2010 by a retired couple looking for a new challenge and has gone on to win numerous awards, an enterprising approach that seems typical of the Canadian style of doing things!
Take this tour of the Annapolis valley from Halifax to visit several of the local wineries: Annapolis Valley Winery Tour with tastings
In addition to the red, white and rose wine, they make rummed cider with the apples of the Annapolis Valley as well as mead with local honey and a port-style chocolate wine. In the barn, we were welcomed to an impromptu tasting, with wine to purchase by the glass, as well as by the bottle.
What we loved: The chance to daydream over a glass of wine on the patio and gaze across the vineyards into the distance.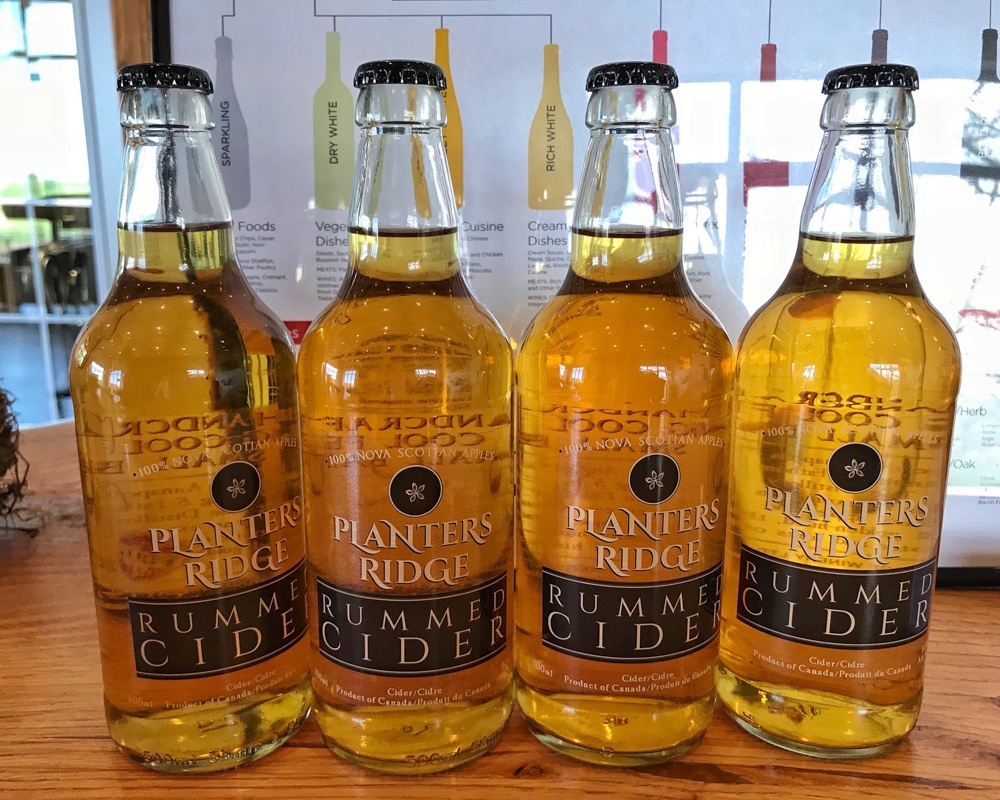 16. Hill Farm Ice Cream and Cheese on the Starr's Point Loop
Just a little further down the road, the hand-painted cow sign welcomed us to Fox Hill Farm, a sixth generation family farm that epitomises the care and passion that you'll find in the Annapolis Valley. Here they plant the seed, that grows the grass, that feeds the 50 Holstein and Jersey cows, that makes the drug and hormone free milk, that they use to produce their gelato, yoghurt, cheese and non-homogenised milk – such dedication!
You won't want to leave without trying a scoop of their creamy gelato flavours, or picking up some of their cheese for your picnic and they also sell their produce at the Halifax Market and Deli. Tours of the dairy can be arranged by appointment.
Need a hotel in the Annapolis Valley? Check out the Old Orchard Inn where we stayed and other hotels in Wolfville
17. Beer at Wayfarers Ale Society
There are many more foodie spots to visit on the Starr's Point Agritourism Loop and we continued past the Willowbank U-pick farm, an apple and fruit growing farm that's open in September and October and the Wood 'n' Hive honey which produces local honey and honey products.  Our final stop was the Wayfarer's Ale Society where we were tempted for a glass of their craft beer on the upstairs patio, overlooking the Cornwallis River.
What we loved: The brewery's name comes from the custom in Medieval England of Wayfarers or travellers who could knock on the door of a church and be granted a small piece of bread and horn of ale to refresh them for the journey and you can ask at the bar for a 'dole' if you are on a journey and need refreshment.
18. Elegant homesteading – herb jellies at The Tangled Garden
Just outside Wolfville is The Tangled Garden, a gem of a garden with a joyous riot of plants and trees where you can walk along meandering gravel paths and enjoy the metal sculptures set in the greenery. The garden was created by owner Beverley McClare around her home and now covers 5 acres offering gourmet parties, weddings and a shop where you can buy preserves flavoured with the herbs in the garden.
The herbs and fragrant plants of the garden are used to make flavoured jellies, jams and vinegars that glow like jewels when stacked in the window, with flavours like apple sage jelly, rose petal and lavender vinegar or rhubarb angelica preserve. Be sure to taste a few while you're there and you won't be able to resist taking a jar or two home!
What we loved: Everything about the Tangled Garden is designed with an artist's eye, there's a pretty picture wherever you look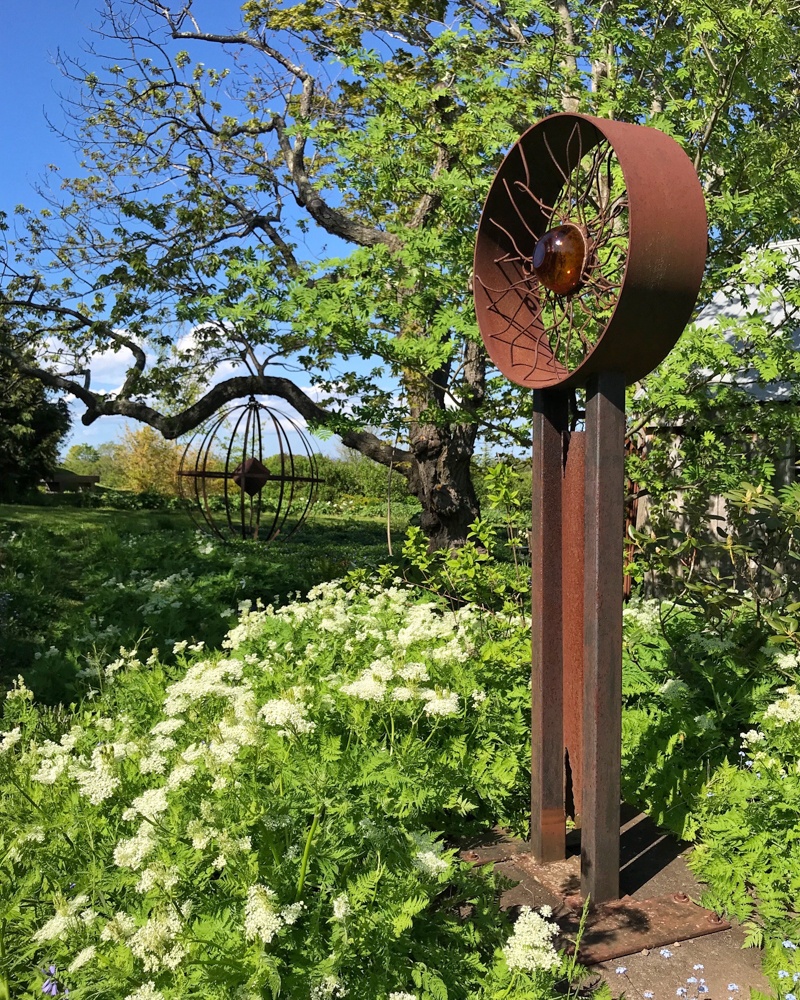 Food experiences to love in Ontario
A few years ago we travelled by RV (Recreational Vehicle or Campervan as we would say in the UK) from Toronto to Montreal, taking in the rolling farmland and national parks of Ontario, a huge state that encompasses fertile fields of top quality produce and large areas of forest. There's a wide range of cuisine here, from the cosmopolitan flavours of Toronto, to the sophistication of the capital city of Ottawa, to the homely farm shops in the small towns and rural areas.
Plan your trip: More information on the Ontario Tourism website.

Read More: Foodie adventures on our Canadian Road Trip – Ontario and Quebec
19. Beer tasting and burgers on the waterfront in Toronto
The cosmopolitan city of Toronto, with its iconic skyline that overlooks Lake Ontario, is home to many communities from around the world that have made their home here, although at the start of our RV road trip we were looking for something that was a typically "Canadian". We found it on the waterfront at the Amsterdam Brewhouse and bagged a table on the deck overlooking the lake, ordering a pulled pork bun with sweet potato fries and a flight of their craft beers – with names like Big Wheel Amber Ale and Downtown Brown.
For a taste of the city, try this small group Toronto Craft Beer, History and Culture tour
The menus here change seasonally but are based around casual burgers, smoked meats and a good selection of hearty salads and the beer is brewed by the company with natural ingredients and no preservatives. In cosmopolitan Toronto this felt as close as you'll get to typical Canadian cuisine and it was a tasty start to our trip.
What we loved: The buzzing atmosphere and lake views
20. Roadside diner that's a cut above at Webster's
Driving north from Toronto towards Algonquin Provincial Park we stopped for a late lunch at Weber's, a roadside diner on Highway 11 near Orillia. Since the 1960s, Weber's has been feeding families heading north for their weekend or holiday camping trips. After parking the RV we joined the fast moving line in the small takeaway area – where burgers and hot-dogs were sizzling over charcoal and the orders with fries, extra cheese, milk shakes or iced tea were being efficiently assembled.
Taking our paper wrapped burgers and cartons of fries we found a shady spot at a picnic table on the grass to enjoy our lunch. For something sweet there's also a small store that sells ice cream and frozen yoghurt.
What we loved: You can eat your lunch in a vintage railway carriage, for those who like their air conditioning in the heat of summer or to keep warm in the cooler months.
21. Wild berries with the bears in Algonquin Provincial Park
Our first taste of the Canadian wilderness was at Algonquin Provincial Park, where there's an old airfield that is now overgrown with trees and low growing blueberry bushes that fruit in summer. The locals often go there to pick the wild blueberries, but you need to take care as the sweet fruit is also sought out by the black bears in the park who consider this their picnic ground when the berries are in season.
While out cycling near the Two Rivers Store, we passed people picking the wild blueberries, who told us that there was a black bear and cub in the area. We proceeded cautiously to join the small crowd in the parking area who were watching mama bear, and then realised that we had inadvertently broken the golden rule and cycled on the path between the bear and its cub. We watched from a safe distance as mama bear checked the cub up the tree was doing fine, before ambling off into the woods in search of more food. The moral of the story, is enjoy a few wild blueberries but be sure to leave plenty for the bears too!
22. Butter tarts at Coutts Country Flavours
In Ontario, some of the most interesting foodie finds were in the local farm shops and markets, and one that we came across at Coutts Country Flavor Shop were the Butter tarts, a specialty of Ontario.
This store is part of a 5th generation family farm and sells organic meat, fresh farm vegetables, local cheeses and their own maple syrup as well as baked goods.The famous Ontario butter tarts are a bit like a treacle tart with a crumbly butter pastry and a filling that's sometimes flavoured with maple syrup or pecan nuts and definitely one to look out for if you're travelling through Ontario.
23. Summer berries in Kingston Farmers market
As a foodie stop, the university town of Kingston on Lake Ontario definitely punches above its weight when it comes to great artisan food producers, bars and restaurants. In summer when we were there, the farmer's market was in full swing, with stall after stall selling perfectly polished peaches, plums and luscious berries sold in mixed baskets ideal to buy for a picnic or take back to your campground.
Much of the soft fruit comes from the Niagara Falls area, where the the mild climate and sunny days offer an ideal environment for fruit farms to stop and pick your own. Kingston was established in 1673 at the confluence of the St Lawrence River and has a somewhat European feel, with narrow streets that offer coffee shops, food stores and secluded courtyards with restaurant patios, so it's definitely a great stop for food lovers.
If you'd like to explore Niagara Falls and don't have a car, check out this small group day tour of Niagara Falls from Toronto

Need somewhere to stay? Check out these hotels in Kingston Ontario
24. Byward Market in Ottawa
In the heart of Ottawa, Byward Market is a magnet for visitors with a covered market selling a mix of Canadian food and crafts, surrounded by areas with open market stalls. Established in 1926, this is one of Canada's oldest public markets that encompasses four blocks of streets with around 600 independent boutiques, restaurants, bars and market stalls.
We admired the fresh fruit and produce on sale in the market stalls, but Byward Market is also an excellent lunchtime stop, with numerous food vendors selling flavours from around the world, reflecting the diverse ethnic mix of Canada today.
To explore Ottawa by bike, take this 3 hour cycling tour to discover the stories of Canada's capital with a guide.
25. Beavertails – the sweet pastry of Ottawa
In Ottawa it's practically obligatory to visit to the BeaverTails kiosk to try this sweet specialty of the city. The flat pastries shaped like a Beaver's Tail are a cross between a pancake and a doughnut and come with lots of sweet toppings. The classic just has a sprinkling of cinnamon and sugar, but we could have tried strawberry cheesecake, hazelnut brownie or pecan pie toppings and I felt quite restrained with my choice of buttery maple sauce! We tried our beavertails in Byward Market Ottawa, but there are branches all over Canada and the USA too.
To see all the sights of Ottawa, take this hop on, hop off bus tour with commentary from a guide

Need somewhere to stay? Check out these hotels in Ottawa
Food experiences to love in Quebec
From Ontario our RV road trip took us into Quebec, where the French speaking Québécois influence was evident almost as soon as we crossed the state line just north of Ottawa. Much of the state is forested, with cold winters and hearty dishes such as poutine, a mix of fries, cheese curd and gravy, are designed as a warming comfort food. In cities like Montreal, however, we found a multicultural mix of cuisine, influenced by the Greek, Italian and Jewish communities who made their home here.
Plan your trip: More information on the Quebec Original website.

Read More: Foodie adventures on our Canadian Road Trip – Ontario and Quebec
26. A romantic lunch by river at the Wakefield Mill
Just north of Ottawa, we drove through the Outaouais region and arrived in Wakefield, a pretty little historic town, full of old houses, craft shops and artisan bakeries and restaurants. The area is something of an escape from the city bustle of Ottawa and we stopped for lunch at the Wakefield Mill, a charming boutique hotel and restaurant which would have made a wonderful spot for a weekend break.
The stone built mill is set by the river in a natural setting and we could almost have been in Switzerland, as the MacClaren Falls rushed below our table by the window. The restaurant offers a sophisticated dining experience with French and Québécois influences and I enjoyed my Arctic Char with a pretty arrangement of mushrooms, green beans and other vegetables.
What we loved: The thick stone walls and open fires of the old mill house make for a romantic getaway and there's a spa and wellness centre overlooking the river as well as lots of hiking trails around the hotel.
27. Campfire cooking at Parc Mont Tremblant in Quebec
Our foodie adventures on our RV trip through Canada wouldn't have been complete if we hadn't tried a bit of campfire cooking. Since every camping space in Canada comes with a picnic table, fire pit and a built in grill it seemed a shame not to give it a go, and on our last night in Mont Tremblant National Park we grilled some juicy steak kebabs over the fire for that smoky BBQ flavour.
The true Canadian tradition of course is to sit around the campfire toasting marshmallows or s'mores as they are strangely called over there – the name's an abbreviation of 'I want some more'. It's quite an art to achieve that combination of melted softness and crispy toasted exterior without the whole thing going up in flames.
What we loved: In campfire cooking you really feel at one with the wilderness, even though you can retire to the comfortable RV complete with fridge, kitchen and bathroom. 
Food experiences to love in Montreal
Everyone we met told us that Montreal serves the best food in Canada, so when we arrived here at the end of our RV trip, eating was high on our agenda. The city has Jewish, Portuguese, Greek and Italian neighbourhoods, homes to restaurants and food shops with an ethnic flavour although you still get plenty of the Quebec influence, with Maple Syrup and hearty dishes inspired by the settlers, pioneers and fur trappers who came to the state.
Plan your trip: More information on the Tourism Montreal website and the Quebec Original website.

Read More: How to spend a perfect day in Montreal
28. Jean Talon Market in Montreal
An important food stop in the Little Italy District on the northern side of Montreal, is the Jean-Talon Market, the largest fruit and veg market in the city. The market is a riot of colour, a paradise for foodies and chefs and it's all beautifully presented with each heirloom tomato, rosy radish and even humble potato polished to perfection.
We also enjoyed discovering specialist products like the ice cider that's made in Quebec. The climate here is too cold for vines, so the first French settlers planted apple orchards instead, pressing the apple juice to make cider. Like ice wine, the fruit is picked after a frost to intensify the flavours and made into a sweet cider with a concentrated flavour that's perfect served with blue cheese or charcuterie.
Need somewhere to stay? Check out these hotels in Montreal
29. Bagels – the Jewish influence in Montreal
Bagels are big in the Jewish neighbourhood of Montreal, with the specialist bakeries of Fairmount and St-Viateur found within a few blocks of each other.  The Montreal bagels are prepared differently to the New York bagels, being baked in a wood fired oven with a sweet maple glaze and more compact texture than their puffy cousins from NYC. We tried the warm-from-the-oven bagels at both bakeries and can confirm they are equally delicious, although St-Viator which has a larger shop where you can easily see the bakers at work and the bagels piled high, making it easier to take photos.
If you want a place to try the bagels for lunch, head to Beauty's in the Jewish neighbourhood of Plateau we tried a 'Special' bagel with lox (smoked salmon) , cream cheese and sliced onion. This classic Jewish diner with its blue banquettes and open kitchen, was founded in 1942 and is now run by the third generation of the Sckolnick family, serving smoked salmon and cream cheese bagels, as well as sandwiches, pancakes and salads.
To explore Montreal on foot, take this Private Walking Tour with a local to discover the unique blend of French and English culture
30. Salt beef sandwich in Montreal
In the same Jewish Plateau neighbourhood is Schwartz's Deli (3895 Boulevard St-Laurent), which was founded in the 1920s by a Jewish immigrant from Romania and is another Montreal food institution. It's the oldest Deli in Canada and is known for the smoked meat sandwiches, made with beef brisket that's marinated in a spiced brine and then smoked. At lunchtime the queues stretch down the street, but there are no frills here – you'll get a mountain of tender smoked salt beef that's barely contained by the soft fresh white bread and garnished only by a squirt of mustard.
To explore Montreal's food scene, take this 3 hours food tour with six tastings of international and local dishes

Need somewhere to stay? Check out these hotels in Montreal
31. Food trucks in Montreal
Montreal has a big food truck scene, with the trucks appearing in various locations around the city during the summer months. They are often gathered together to make a food court where you can try lots of different styles of cuisine, sometimes accompanied by live music to create a festival atmosphere. We got a taste of the food truck scene during the BouffonsMTL food truck festival which is part of the Just for Laughs comedy festival. Food trailers were arranged around an open courtyard and featured many of Montreal's top restaurants, who offer street-food versions of their signature dishes at affordable prices.
The BouffonsMTL street food festival takes place in July but there are many food festivals in Montreal, so look out for the Montreal a la table restaurant week in November and First Fridays at the Olympic Village where food trucks gather on the first Friday of each month from May.
32. Maple syrup – the sweet taste of Quebec
With over 90% of the maple syrup in Canada being produced in Québec province, Montreal is the perfect place to pick up a sweet souvenir of your trip to pour over your pancakes or deserts. We found a great range of maple syrup at Delices Erable & Cie 84, rue St-Paul Est in Vieux Montreal, where you can taste everything on sale, with maple fudge, ice cream and cakes at the take out counter or to eat in their cafe. There are also excellent maple products at Marché Bonsecours, a domed heritage building full of stores selling unique gifts and crafts from Québec, an essential destination for the stylish shopper in Montreal.
To explore Montreal's food scene, take this 3 hours food tour with six tastings of international and local dishes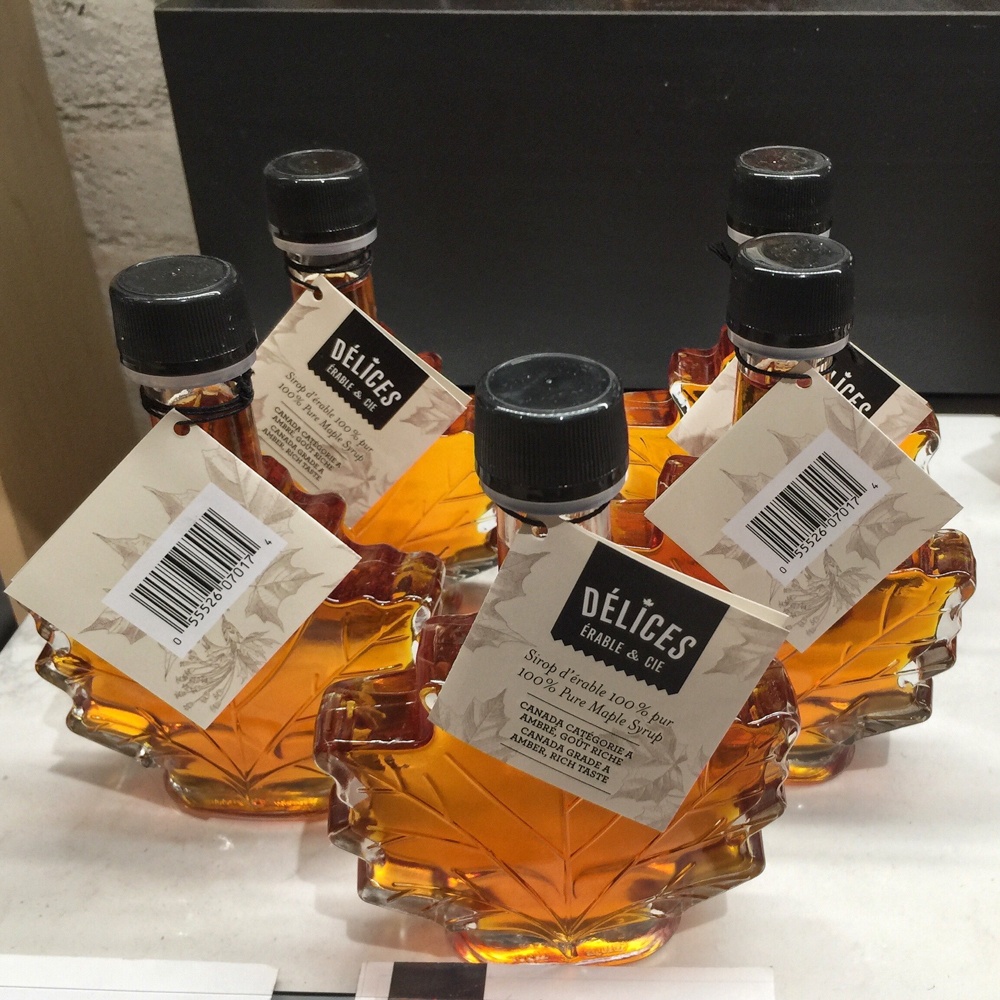 Food experiences to love in Victoria – British Columbia
On the west coast of Canada in British Columbia, I spent a week on Vancouver Island, tasting my way through the fantastic food scene of Victoria and visiting the island's second city of Nanaimo. Victoria is known as the most British of Canadian Cities, with carriage rides and afternoon tea, but I found a more lively atmosphere than its reputation would suggest, with a devotion to farm to table local produce and a huge range of multicultural flavours.
It's a port city that has opened its arms to influences from all over the world, from Chinese who came to work on the railway to immigrants who brought French patisseries, Korean bao buns and Indian street-food.The downtown neighbourhoods around Chinatown and Lower Johnson Street (known as LoJo) are buzzing with independent cafés and craft breweries, and you only need to drive a little way out of the city to find scenic vineyards and cider orchards.
Plan your trip:More information on the Hello BC tourism website

Read More: How to spend a perfect weekend in Victoria

Hotels in Victoria: Check out the Inn at Laurel Point where we stayed and other hotels in Victoria
33. Fine dining at Aura with a view of the waterfront in Victoria
In a waterside city, what could be nicer than eating with a beautiful view of the inner harbour where the sea planes come and go? Aura Restaurant at the Inn at Laurel Point where I stayed, has a patio terrace where the walkers and joggers pass by to nearby Fisherman's Wharf. Executive Chef Takashi Ito creates beautifully presented dishes that marry local flavours with an oriental twist in perfect harmony. When I was there I enjoyed the pretty watermelon and sprout salad, the Aura cheese plate of 3 local cheeses with tomato fennel jam, lavender honey and seasonal fruit and the Seacuterie plate, a selection of salmon pâté, spot prawns, octopus and other seafood delicacies.
To see more of Victoria, take this welcome tour with a local to see the sights and learn more about local culture
34. A relaxed lunch on the dock at Fisherman's Wharf, Victoria
If you want something more casual, a short distance away from Aura you'll find Fisherman's Wharf, which is a great place for outdoor eating in summer or when the weather is fine in spring and early autumn. The marina is full of colourful houseboats, painted in rainbow shades and easily accessible by water taxi from the inner harbour or it's a pleasant walk on the David Foster Way that winds around Laurel Point. For a relaxed lunch with a view of the water, look out for Barb's Fish and Chips, oysters and crab at The Floating Fish Store and ice cream at Jackson's Ice Cream Float.
What we loved: Keep a close eye out and you might spot river otters or harbour seals hanging out near Fisherman's Wharf

One of the top things to do in Victoria is Whale Watching – so check out this 3 hour whale watching cruise in a covered boat
35. A cycle tour for wine lovers in Victoria
Just north of Victoria is the Saanich Peninsula, a farming area with a mild climate due to being surrounded on three sides by the ocean. The gently rolling countryside is home to many small wineries and I spent a day cycling around the area on a full day wine tour with Seawall Adventure, including wine tastings, lunch and tasting plates at several of the wineries. If cycling's not your thing, you could easily hire a car and drive around the area, stopping for a bite to eat and a cider or wine tasting (be sure to have a designated driver).
De Vine Vineyards in the Saanich Peninsula, Victoria
De Vine Vineyards are a family-run winery offering wonderful views across the south-facing vineyards towards the ocean. You'll be guided through a tasting of their organic wines in the wood lined tasting room – they also distill gin, vodka and whiskey using local ingredients and flavourings.
Church and State Winery in the Saanich Peninsula, Victoria
Not much further we stopped for lunch at the Church and State winery, with a large restaurant and events area – they also have vineyards in the Okanagan Valley. We sat in the bar area, tasting our way through the Lost Inhibitions range, with tongue in cheek labels like "I love it when you shut up" and "Too glam to give a damn" together with a lunch of gourmet pizza from the wood fired pizza oven.
Sea Cider Farm Cider House in the Saanich Peninsula near Victoria
The final stop on our gourmet cycling tour was Sea Cider Farm & Ciderhouse, with a beautiful café area where we sat at wooden tables overlooking the organic apple orchards, munching on a platter of local cheese, dips and sausage. We tasted our way through different cider styles, from the fruity Pippinsto the refined and delicate Kings and Spies.
36. A stop for coffee connoisseurs in Victoria
When visiting a new place, I love to take a food tour as a way to quickly discover the local food scene and a convivial way to eat, drink and make new friends. In Victoria I joined a small group tour with Off The Eaten Track starting at the bustling Victoria Public Market, in the Hudson Building, which was built in 1913 as the leading department store – the Harrods of Victoria.
Our food tour began at 2% Jazz which started as a kiosk nearby but moved to its current coffee shop location just outside the market in 1996. They roast their own beans here and the smell of freshly roasted coffee drifts up from the open plan lower ground floor. We tried one of the famous $2 single origin Americanos, to taste the different styles of coffee that vary like wines according to the terroir or land they are grown on. It's been voted the best coffee shop in Victoria, so if you are a coffee connoisseur, 2% Jazz is definitely the place to start with a great cup of coffee in Victoria.
What we loved: That smell of freshly ground coffee is so appetising!

Hotels in Victoria: Check out the Inn at Laurel Point where we stayed and other hotels in Victoria
37. Poutine with an Indian Twist in Victoria
If you've visited Quebec province, you'll likely have heard of Poutine, the warming street-food dish of fries, topped with cheese curds and swimming in gravy. It was fun to find that top chefs all over Canada like to create their own versions of traditional dishes like Poutine and at Vij's Sutra we got to try the much more refined Indian equivalent, with crispy cassava topped with butter chicken sauce and paneer. This food stall in Victoria Market is part of the group of restaurants built up by local chef Vikram Vij and you'll find a choice of curries and daily specials that are based on his home cooked family favourites.
38. A taste of Chinatown in Victoria
The Chinatown neighbourhood in Victoria is marked by lions on guard at the Gate of Harmonious Interest on Fisgard Street. Close to the port area of Victoria, this was once a rough and tough neighbourhood, full of gambling houses and brothels as well as the hub for schools and businesses that served the Chinese immigrants who first arrived to build the Canadian railways. You can get a flavour of the old Chinatown in Fan Tan Alley, a narrow passageway that could easily be closed off at each end if trouble came calling.
In the Chinatown neighbourhood, next to the old Chinese public school, we stopped at Bao for some spicy pork bao buns. The bao are a favourite Asian snack, with their soft steamed bun filled with meat and pickles, and you'll also find dishes such as Ramen and Bibimbap on the menu.
39. Wholesome elegance at Nourish in Victoria
To taste the hipster side of Victoria, head to Nourish (225 Quebec Street) a café and dining room set in a turn of the century house in James Bay. Designed to attract the Yoga set, Nourish must be one of the most instagrammable restaurants in Victoria and is a place to feed body and soul, with veggie, vegan and gluten free options, steaming mugs of broth and everything healthy and wholesome.
Another restaurant in Victoria that upholds the Farm to Table concept is 10 Acres Bistro, serving food that is grown on their organic farm just north of the city or sourced from other nearby farms and local fishermen.
Hotels in Victoria: Check out the Magnolia boutique hotel and spa where we stayed and other hotels in Victoria
Food experiences to love in Nanaimo
The Harbour City of Nanaimo is for many the gateway to the natural beauty of Vancouver Island, as it's the arrival point for the ferry from Vancouver. This friendly West Coast community is more small town than big city in feel, and has some fun, food experiences that I tried when I was there.
Plan your trip: Visit the Tourism Nanaimo Website, the Hello BC Website 

Read More: Nanaimo – fun food and adventure in Vancouver Island
40. Pancakes – the ultimate Canadian breakfast at Gabriel's in Nanaimo
Pancakes must be the ultimate Canadian breakfast, to keep you fuelled until lunchtime and beyond. I tried a plate of pancakes in Nanaimo at Gabriel's, one of the most stylish cafés in town, with cool artwork, country music and backrests made from Nicaraguan coffee sacks. The café supports the farm to table movement and they source their meat, vegetables and other produce from local, family-run farms.My gorgeous fluffy pancakes were piled high with apples, bananas, blueberries and yoghurt with honey to pour over, to set me up for the rest of the day exploring Nanaimo.
What we loved: At Gabriel's they support the Dining with Dignity programme, with soup tokens so you can gift a hot meal for someone in the community who needs it. 
41. The Nanaimo bar – a sweet specialty of Nanaimo
At cafes and bakeries around Nanaimo, you'll find the Nanaimo Bar, a sweet specialty that originated in the city and has spread throughout Vancouver island. The Nanaimo Bar has a biscuit base with layers of sweet vanilla custard and a chocolate ganache topping and the recipe was first seen in the 1950s, when the cake became a popular choice for charity teas and fundraisers. There seem to be endless Nanaimo Bar variations around town, including Nanaimo Bar ice cream, fudge, cocktails and even a pedicure with Nanaimo bar scents of chocolate and vanilla. Discover more or pick up a leaflet for the Nanaimo Bar Trail, to guide you on where to find the Nanaimo Bar around town.
42. Arrive by kayak at Dinghy Dock Pub – a floating pub in Nanaimo
Just offshore from Nanaimo are small islands that shelter the bay; Newcastle Island which is a provincial park and Protection Island which has houses and permanent residents who get back and forth on an hourly ferry. Moored just off Protection Island is the Dinghy Dock Pub, which is a popular Nanaimo institution and can be accessed by kayak, boat or ferry. It's a lively, fun place to eat especially in summer when you can sit on the dock, and is decorated with flags, ship signs and other vintage nautical memorabilia.
Order a beer from the friendly staff or choose from the seafood dishes on the menu, like the clam chowder, fish & chips, a pint of prawns, wild salmon and Salt Spring Island mussels, as well as salads, wraps, ribs and burgers with quite a few veggie and gluten free options. There's often a live band playing at the Dinghy Dock Pub and in the summer months you can sit on the deck with a drink and watch local sailboaters in Nanaimo harbour.
Hotels in Nanaimo: Check out the Coast Bastion where we stayed and other hotels in Nanaimo
43. Wine tasting in the Cowichan Valley in Victoria Island
The beautiful Cowichan Valley is just 45 minute drive from Victoria and has become well known for wine making, since the first commercial vineyards were planted in the 1970s. There are plenty of cider makers, distilleries and craft breweries just off Highway 1, making a perfect stop-off when you're travelling between Nanaimo and Victoria, or alternatively you can take one of the winery tours that are available from Nanaimo, Victoria and Cowichan.
I visited the delightful Unsworth Vineyards in the Cowichan Valley, with a light and airy tasting room overlooking the lake and a restaurant set in the 100 years old farmhouse. The area has a warm and temperate microclimate with plenty of West Coast rain, so the winery has planted new mildew-resistant Blattner grape varieties to combine with the better known Pinot Noir and Pinot Gris.
Check out this day tour of the Cowichan Valley from Victoria to visit some of the fantastic wineries
The restaurant tables are set in different rooms of the old farmhouse, creating a relaxed and intimate atmosphere and dishes that were incredibly pretty as well as delicious. I especially enjoyed the seasonal Spot Prawns on a gazpacho sauce with watercress pesto, and a salad of yellow and red roasted beets with goats cheese and orange vinaigrette. This is a relaxed but gourmet experience and the friendly and professional staff can advise you on the best wine pairings to try with each dish.
What we loved: Be sure to try the Charme de L'Ile sparkling wine, Vancouver Island's answer to champagne, especially the pretty pink rosé which is delicious for summer drinking
Thanks for making it this far through the wonderful tastes and flavours of Canada, where tradition and modernity mingle, with a nod to the international influences of its multicultural population and a respect for the freshest farm ingredients.
To plan your trip to Canada visit the Destination Canada Website

Need a guidebook? We recommend the DK Eyewitness Travel Guide to Canada or the Rough Guide to Canada
ETA for visitors to Canada
When travelling to Canada from the UK you will need to apply for a Canadian Government ETA (Electronic Travel Authorisation) which is required before arrival and for transit through Canada. This can be applied for online and will normally be authorised very quickly, however to be on the safe side you should secure your ETA before booking flights or tickets. Cost is currently $7 CAD and can be applied for at www.canada.gc.ca/immigration – note that anyone charging more than this is not the official government site.

Pin it – your choice!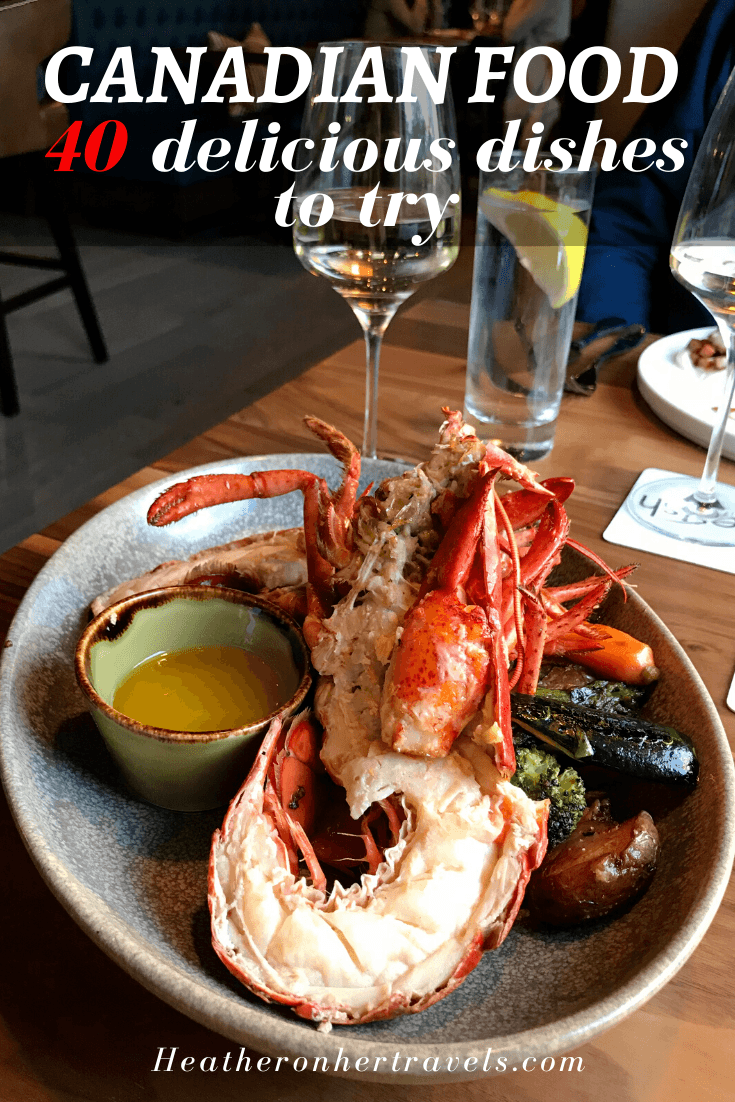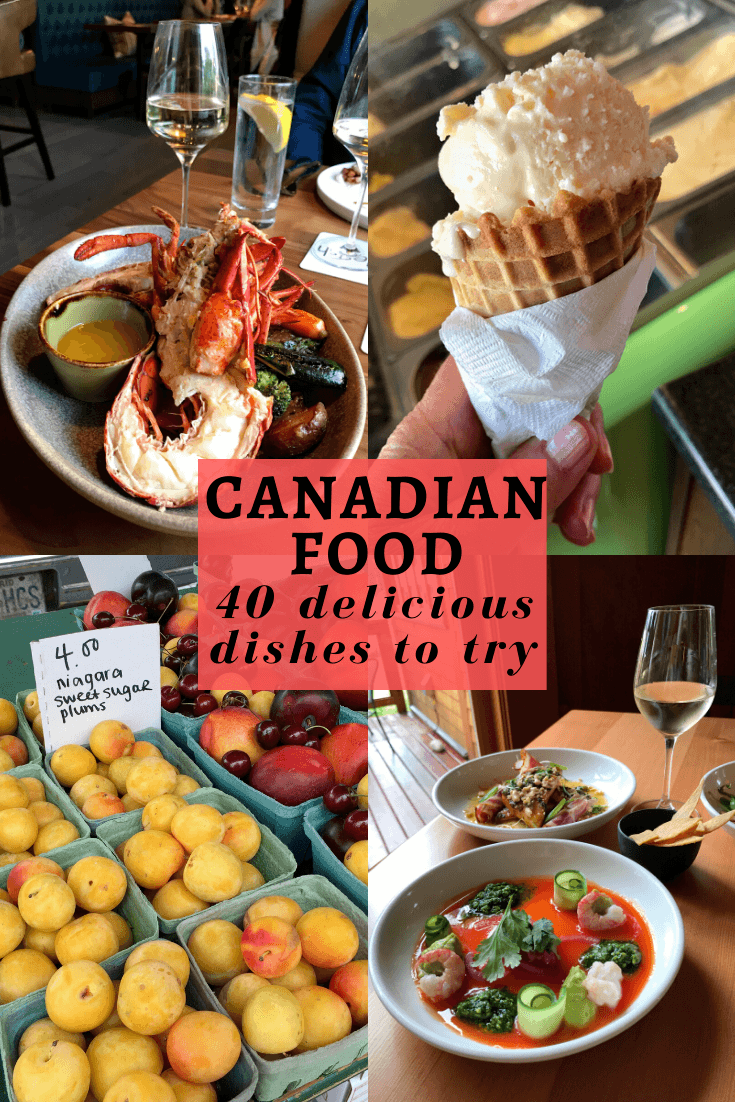 This article is sponsored* by Destination Canada as part of their Canada #ForGlowingHearts campaign – the experiences mentioned were provided by various Canadian tourism boards on past press trips.
* More info on my policies page
This article is originally published at Heatheronhertravels.com – Read the original article here