Google Rilis Aneka Game Ringan "GameSnack", Bisa Dimainkan lewat GoJek – Kompas.com – KOMPAS.com
KOMPAS.com – Saat ini telah banyak game mobile yang memiliki tampilan visual berkualitas tinggi dengan gameplay yang seru. Untuk dapat memainkan game tersebut, pengguna harus memiliki spesifikasi ponsel yang mumpuni.
Padahal jaringan internet yang pelan dan kemampuan perangkat yang rendah dapat menjadi faktor kendala dalam bermain game. Google tampaknya melihat celah dibalik situasi ini.
Raksasa internet tersebut membuat serangkaian game casual berbasis web yang ringan dan dapat dimainkan pada ponsel dengan spesifikasi rendah atau pada jaringan yang lemot sekalipun.
Aneka game itu terkumpul dalam sebuah platform bernama " GameSnack" yang dikembangkan oleh Lab 120, unit internal Google untuk proyek-proyek eksperimental.
Baca juga: Ulang Tahun Ke-15, Google Maps Dapat Hadiah Ikon dan Fitur Baru
Judul-judul game berbasis HTML5 dalam GameSnack khusus dirancang agar bisa dimuat dan mulai dimainkan dalam beberapa detik walaupun pengguna memakai koneksi internet lamban dengan kecepatan di bawah 1 Mbps.
"Misalnya Tower, salah satu judul GameSnack yang populer, bisa cepat dimainkan oleh perangkat dengan RAM 1 GB dan koneksi internet 3G," tulis Google dalam sebuah posting blog berisi pengumuman.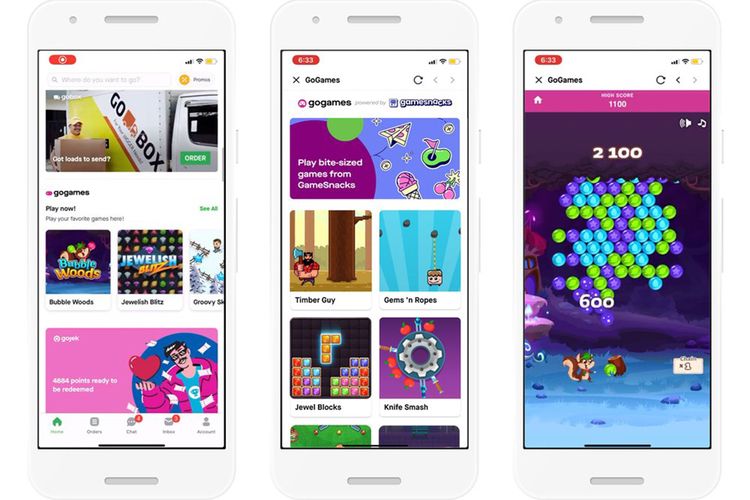 Tangkapan layar beberapa game yang tersedia di GameSnack.
Google menyebutkan bahwa game lainnya yang berbasis web membutuhkan waku jauh lebih lama untuk loading, mencapai belasan detik.
Pengurangan waktu tunggu disebabkan karena GameSnacks dirancang dengan mengurangi ukuran halaman HTML yang dimuat pada browser dengan mengecilkan ukuran file game seperti gambar, dan suara.
Aneka game dalam GameSnack bisa dimainkan dengan mengunjungi situsnya lewat peramban, baik desktop (PC, laptop), maupun mobile (tablet, smartphone). Selain itu, khusus untuk Indonesia, permainan-permainan ini akan segera tersedia di GoJek lewat layanan GoGames.
Baca juga: 3 Saran Gojek untuk Menghindari Penipuan
"Melalui kemitraan (dengan GoJek), kami akan memberikan pengalaman game yang mudah diakses untuk para pengguna di Asia Tenggara, dimulai dari Indonesia," imbuh Google, sebagaimana diimpun KompasTekno dari Blog Google, Minggu (16/2/2020).
Saat ini GameSnacks memiliki sejumlah game yang telah tersedia seperti Bridge of Doom, Bubble Woods, Road Fury, Groovy Ski, Jump with Justin, dan Jewelish Blitz.
Untuk memperbanyak game yang ada, Google mengajak para pengembang game HTML5 bergabung dengan platform GameSnack. Informasi kontaknya bisa dilihat di tautan berikut.